Online Lenten Programs
14 February - 29 March 2018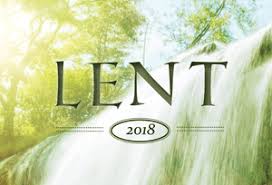 The Liturgical Season of Lent provides a time for us to slow down and to re-evaluate the way we live. What are our values in life? How are we engaged in our Community? What areas of outreach to others would I like to strengthen? Is it possible to find five minutes in the day to raise my consciousness of the presence of God in my life? Have we chosen to take a Project Compassion box/envelope so that it may be a reminder to us of those whose lives are more difficult than ours?
Lent challenges us to walk the extra mile in all the facets of our lives. We will hear the words of prayer, fasting and almsgiving throughout this season. What are we praying for? What are we fasting from? To what cause are we giving alms? We may feel disconsolate at times, but in facing our weaknesses and fragility let us not lose sight of the extraordinary love God has for each of us, no matter what. Let us turn to God throughout these weeks remembering that...
"God is all tenderness and compassion
Slow to anger, rich in mercy and ready to relent"
Why else would God have sent Jesus for our Salvation?
We have included a link to free online resources on the Mercy World website
http://www.mercyworld.org/news_centre/view_article.cfm?id=2894
---