"Don't Keep History a Mystery" - Reconcililiation Week 27th May - 3rd June 2018
Reflections from the Centre by Mary Wicks osu
Cher, the aging rock star, was out in Australia this year as a guest of the Gay Mardi Gras in Sydney. She is known for a memorable song called, "If I could turn back time" ….can you hear me humming? Too far away? Quite a rocky tune and full of the regret for those of us who have said and done things that we regret. I relate to this sentiment, as I am sure many of you do as well.
But, what if we in Australia could turn back time?
Would we?
And what could we propose as an alternative history to the one of colonisation which has been so devastating to the 'native tribes' of Australia?1
Recently I went and saw the film "Gurrumul". Some of you may know a little bit about Geofrrey Gurrumul Yunipingu. He hailed from Elcho Island (Galiwing'ku) in the remote North East of Arnhem Land in the Northern Territory. He is now referred to, more respectfully since his death, as Dr G. Yunupingu.2 I will refer to him hence as Dr G.
I myself have had an interest in the Yunipingu clan since my days working with the outreach Cardiology team in Darwin, 2012-13. I would have visited that little island maybe 5 times in 18 months, as well as many other communities in the Arnhem Land region. Given my previous work with Aboriginal people was in a desert, flying into Arnhem Land really felt like flying over Eden. Truly a piece of paradise from a small plane. Medically - less than idyllic.
My worst memory of the community of Galiwing'ku, was the time I helped to resuscitate a 2 year old child at the clinic and failed. I can see that fraiI little body as we attempted to pummel it into life, even now. I happened to be on site with a cardiologist when we were called upon to help this small child who was in extremis. There were no other doctors there on that day. After the tragic loss of this little one the howling began. The relatives of this child, mostly women, came to the clinic and howled their grief.
Howling is shared across most remote Aboriginal groups and I had heard it many times before (and since) while working in the Balgo region of Western Australia. This wailing is such a primal sound that one cannot fail to be disturbed at the deepest level. All other activity and sound fall away and this plaintive keening goes on and on. Interestingly it is shared across many indigenous cultures.3
I also remember many people in that community of Galiwing'ku who had Rheumatic Heart Disease. That was a big part of why the Cardiology team visited so frequently. Acute Rheumatic Fever causes damage to the heart valves which eventually fail and require major surgery to replace. Often this happens multiple times to multiple valves and the patients end up with heart failure, leaving many of them cardiac cripples or dead at quite a young age. Rheumatic Fever is a marker of poverty, and is notably absent now in mainstream Australia. Arnhem Land has some of the highest recorded rates of this disease in the world;4 in our rich country! Truly shameful.
Dr G was an Aboriginal man born blind. Sounds biblical already doesn't it? Somehow he taught himself the guitar (playing it upside down, left handed, without reversing the strings). He also listened acutely throughout his life, to the ancestral songs of his tribe, over and over in this oral culture, as they were sung and danced in the various ceremonies - celebrations, grieving, increase rituals, initiations…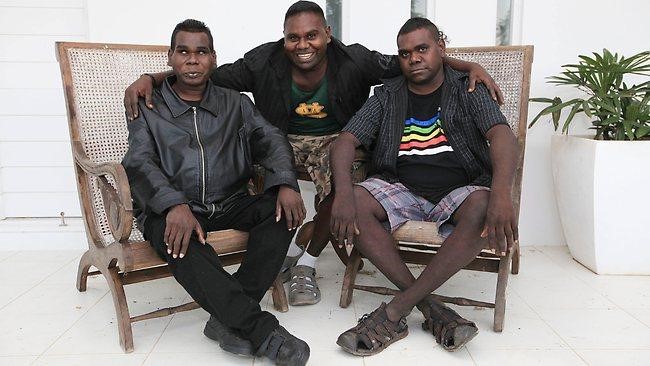 Geoffrey Gurrumul Yunupingu, left, with Saltwater Band members Lloyd Garrawitja and Nigel Yunupingu 5
Interestingly, Dr G was a member of several important Aboriginal rock bands from Arnhem Land early on in his career (including Yothu Yindi and the Saltwater Band) but he was not really 'seen' until he was encouraged into a solo career. Dr G was the hidden vocal gem in those other bands, that was not noticed by many. He had a voice so pure and a message so profoundly connected to land-life-humanity (his ancestral stories), that it left people astounded. His humility was not in question– he simply didn't care about fame and money. He and his family saw him as an important cultural voice – singing their ancient songs to the world. They knew that you and I might understand him, and their cultural core, not by understanding the Yolgnu Matha language, which he used in much of his music, but by listening with our hearts to the deeper meaning. See, told you it was biblical…
Members of his family state several times in the film that they didn't really expect Dr G to amount to much, or to be ever independent from his home and family, due to his blindness. But everyone underestimated him. Of note, the film "Gurrumul" was made before he died and before anyone thought he would die. Dr G sang with the superstar Sting on one occasion and won Aria awards and many other accolades. He toured the US and parts of Europe before his death at 46 years old.
Death so young? Usually when you hear of the death of a music star you may be inclined to think – drugs, alcohol and misadventure – and often that is the case. Death by overdose or self harm/ suicide, drug use is often the way of superstars. This was not true for Dr G - He died from kidney failure.
Dr G had commenced haemodialysis a year before he died, after suffering chronic kidney disease for most of his life. This meant that he had to face a very hard choice. He could relocate to the city of Darwin, hundreds of miles away from his island, and have life-saving haemodialysis, or he could choose to stay on at Galiwing'ku with his family and be part of the dailiness of shared life, and feed off the strength of his culture, and die.
He initially, and reluctantly it appears, chose to relocate to Darwin. He would have been urged to do so by health professionals and his Balanda6 friends, thinking this was in his best interests. This was a man in the prime of his life and in the middle of what appeared to be an internationally successful musical career. Of course, length of life is valued! Maybe he could get a kidney transplant at some stage?7
Dr G often avoided his planned dialysis sessions in Darwin. These are scheduled for half a day, three times a week. He subsequently got sick and often landed in hospital during that last year of his life. Shortly before his death, Dr G was found by some friends "long grassing" along the coastal aspect of Darwin city. "Long Grassing" is the term that refers to Aboriginal homelessness in Darwin – these people, often from remote communities, live among the long grass usually at the oceans edge. Another famous Darwin long grasser is the Aboriginal actor David Gulpilil. 4
The place on the Darwin beach where Dr G. was found long grasssing prior to his death. Memorialised with some sheoaks.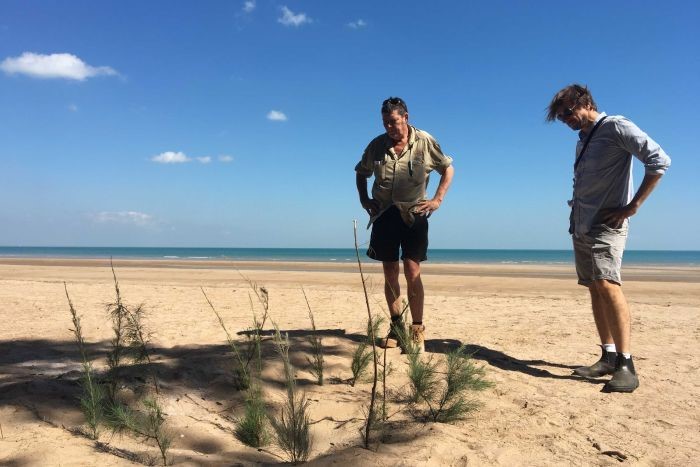 Many of these long grassers suffer addiction to alcohol, but not all. Dr G was not known to be a 'drinker'. Maybe it was the cultural company he needed. I do not know. The bigger question for me is about equity. Why are our Aboriginal people dying at such high rates from preventable diseases and not gaining the same access to what can be life saving therapies, such as renal dialysis and transplant? Dr G could not have dialysis near his home community of Galiwing'ku and be with his family – this had to be done many miles away in Darwin, despite the high rates of renal failure in Arnhem Land. Darwin is 530 kms by air from Galiwing'ku – this man lived on an island and the dirt roads in Arnhem Land are impassable during the wet season. Poor access is a geographical and a structural reality.
Dr G, and many other remote dwelling Aboriginal people, live a lifestyle that is difficult for mainstream medical specialists and their health systems to understand and cope with. Lifestyles and choices of remote dwelling Aboriginal people often confound the 'western mind' and are often conceptualised as deficient. As western health professionals, with scientific reasoning and the power of individualism in our culture, we judge other cultures against our own cultural norms. I hear these 'deficit-model' thoughts expressed by my medical peers every day and struggle with some of the concepts myself. The conversation often starts with, "if only they…."
- If only they took their medicine.
- If only they did or did not do this or that.
- If only they understood that we know best and have their best interests at heart. If only they….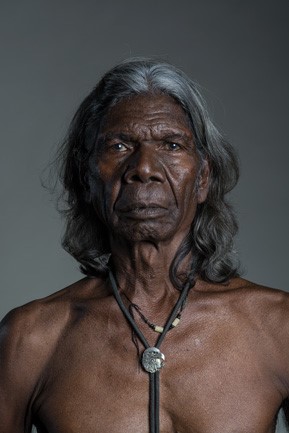 Actor - David Gulpilil AM (Member Order of Australia)
Some of this rhetoric revolves around Aboriginal people seeming not to value their personal health as highly as we think they should. I encounter this reality every day and in fact saw it again today at the Alice Springs Hospital where I work. A 22 year old Aboriginal woman with severe heart failure (another story) came to hospital with a severe infection. We started intravenous antibiotics and other therapies and told her how sick she was and how important it was that she stay in the hospital until she was better. I asked her if there was anything she was worried about, and finally she told me that she was responsible for looking after her mother who was wheelchair bound, and that there was no-one else to do so if she was in hospital. I tried to sort out that complex situation so she would be reassurred but was unable to do so quickly enough. The social support services in Alice Springs are severely stretched and this sort of situation is a very common occurrence, and not the worst by any means. Predictably, that young woman left the hospital to check on and care for her mother that night. She collapsed at home the next morning and was brought back to hospital by ambulance. I was not surprised at these events, but sorry it happened like that despite my efforts. I offered to admit her mother to the hospital so she could be safe and cared for during this time.
So many of our Aboriginal patients in Central Australia are caring for family and are obligated to do so at the cost of their own individual health. To complete the typical tragic picture, the mother of the young woman mentioned above ended up in a wheelchair when she was stabbed by a family member who was intoxicated. She was left paraplegic after her spinal cord was severed. During the morning, my patient's own partner came to the hospital and threatened her harm if she did not go with him immediately. For what purpose I do not know. He ended up smashing the windows of her car in retribution after he was escorted out of the Emergency Department by security. This type of story is a daily one. One can become numb at this level of interpersonal violence seen daily in the lives of our patients. I try to look at the face of the newest member of our team, usually the medical student, to remind me of the real horror.9 We, as health care workers, really have such a shallow understanding of the pressures our patients are under, and how powerful family obligations are for them, whether they be dysfunctional demands or not.
Back to Dr G...The film "Gurrumul" talked about the erosion of the ancient Aboriginal cultures of our land, piece by piece, without undue notice or concern being raised. It was as if a piece of tile fell from the Opera House roof every little while and no-one noticed or cared. I cannot imagine this would be so. Every one of those 1,056,006 tiles are noticed and a restoration project would surely have the energy of the nation behind it!
Aboriginal culture and reality cannot be restored to a pre-white period of supposed bliss10 – a time which is often romantically imagined; that period without the disruption of colonisation. We cannot turn back time or pretend that the intervening times have not occurred. That history, with its injustices and misunderstandings, needs to be wrestled with at a personal, local and national level, to be resolved. No simple banner claiming "Reconciliation Now" will be enough without a bit of searing truth.
Aboriginal cultures are dynamic and resilient and have necessarily adapted to the drastically different realities they encounter today. The length of colonisation and the level of dispossession contribute to the different responses and condition of these cultures. as experienced today. The Aboriginal people of Sydney Cove have experienced a very different history to the Arrente people of Central Australia. If these cultures were not so resilient they most certainly would have died out, as one era of Government policy had hoped.11
There is hope of working together in a meaningful way. The following note was written by an elderly Aboriginal man from a very remote area in the desert. His son Nigel was dying and he was doing his best to look after him, as were we in the Alice Springs Hospital.
Mary Wicks
Alice Springs
4/5/18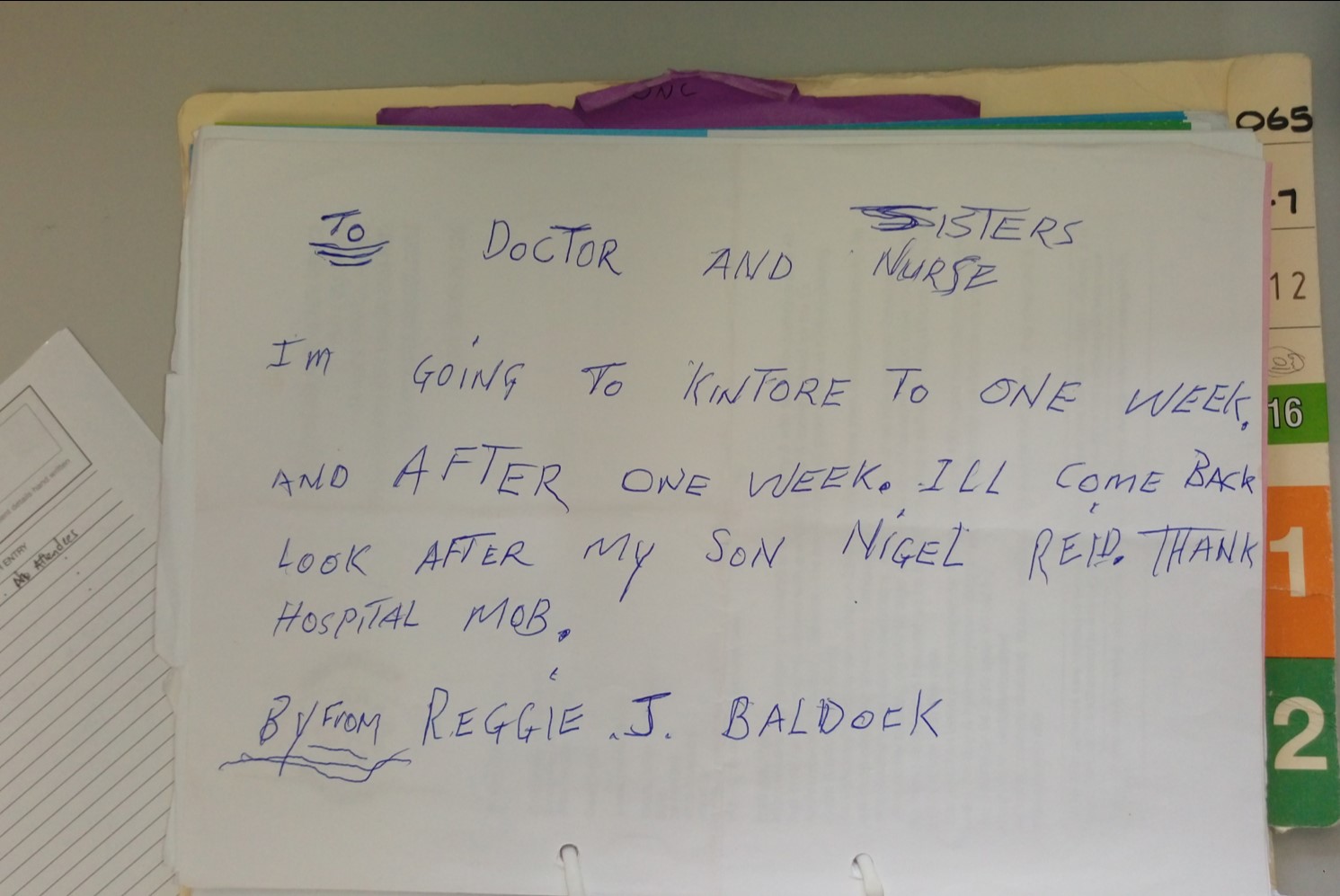 NOTES
"The Native Tribes of Central Australia", by Baldwin Spencer and F. J. Gillen [1899]. The first anthropological texts looking at Aboriginal Culture in Central Australia.

Gurrumul was awarded an honoray doctorate in music from the University of Sydney in 2012. See, http://sydney.edu.au/arms/archives/history/HonYunupingu.shtml.

Note that this disease is present in most under-developed countries, especially Africa. The Arnhem Land rates are the highest recorded I think because the health data from impoverished societies is not robustly collected.

Nigel was a patient of mine. A young man from Galiwing'ku who was cousin to Dr G, Nigel had severe rheumatic heart disease. He was the yidaki player (erroneously called the digeridoo) in the Salt Water Band. Highlights medically:
1980 – Born Galiwing'ku (Elcho Island)
1990 – Acute Rheumatic Fever (ARF) (age 10)
1993 – Recurrence ARF (age 13)
2003 – Triple heart valve replacement (age 23)
2009 – Redo triple valve replacement (age 29)
2012 – Endocarditis – life threatening infection of heart valve (age 32)
2013 – Well with wife and little boy.
2018 – I am scared to look up his electronic medical file to know what has happened by now and if he is even still alive.
"Balanda" is the word in the Yolgnu Matha language of Arnhem Land that refers to white people, or "white-fellas".

The National transplant data shows that an Indigenous Australian from a Remote or Very Remote area (Arnhem Land and all the communities around Alice Springs are considered Very Remote) has only a tenth the chance of a kidney transplant as compared to a non-Indigenous patient from the same region.

David Gulpillil is know for acting in many Australian films, most notably, "Walkabout" and more recently "Charlies Country".

This same week a patient of mine from the local community of Santa Teresa was stabbed to death by her husband in Alice Springs.

This pre-invasion bliss is often referred to as the "noble savage" anthropologically. It is an idealised understanding of how "primitive societies" were constituted. It is similar I think to popular notions of " Aboriginal Dreamtime" – this precontact, spiritually romanticised state that Aboriginal people inhabited.

The Assimilation Policy (1937) – a quote from A.O. Neville (WA Chief Aboriginal Protector), "In 50 years we should forget that there were any Aborigines in this country."
Source: https://www.creativespirits.info/aboriginalculture/history/aboriginal-history-timeline-1900-1969#ixzz5EaFAM5Li
---