World Refugee Day - 20th June 2018
World Refugee Day is celebrated on 20 June and is the high point of World Refugee Week 17-23 June. The theme for 2018 is #WithRegugees.
In today's world, more than ever before we need such a celebration to focus the world's attention on the plight of refugees, and to recognise the contribution refugees have made and are making to our community.
In our own country World Refugee Day provides us with an opporutnity to reflect on our rich cultural diversity, the courage displayed by refugees to face the challenges before them and most importantly to listn to their stories and help promote a "culture of welcome" in our own communities.
Our participation in events organised by local Councils and Organisations enables us to express our solidarity with refugees and also to send a strong message to our politicians that we, as Australians demand justice and compassion for those forced from their homeland through war and violence.
Let us try to participate in an activity, listen to the story of a refugee or sign one of the petitions available on the #WithRefugees.
This World Refugee Day, Sr Genny Ryan osu has prepared an update on Human Trafficking in Australia.
Please follow the link for that information;
Human Trafficking in Australia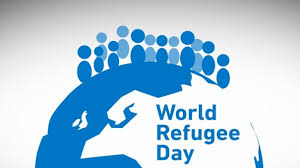 ---