Bill Hayden's Baptism
On Sunday 9th September, Ursuline Sisters Janice Howard and Gabriel Williams attended the Baptism of Bill Hayden the former Governer General of Australia. Bill, a former atheist was baptised into the Catholic faith at age 85 in St Mary's Catholic Church, Ipswich. He was accompanied by his wife Dallas and family, a number of politicians and Bill's former staff members.
Sr Janice recalls writing to him on behalf of Sr Camillus some years back after he visited St Ita's Dutton Park - though he always said, and repeated to her at his baptism that his real favourite was our Mother Francis Sheaham - as he said "a feisty character".
A quote from Bill's letter of invitation..."After my severe stroke I spent several months in hospital which meant a lot of time to think about matters...I concluded it was largely the influence of my own mother, who was catholic, and the influence of the nuns of the Ursuline Order who taught me in primary school and stressed the principles of humanity, social commitment and service to others. Those years had a lasting impression on my own values."
The baptism was celebrated by Fr. Peter Dillon. Father spoke of the first time he met Bill many years ago. They both have very clear memories of that meeting. Father shook Bill's hand and said "Bill, you are very welcome." He remarked it had taken a long time to get to this point, but what a joy it was. They have remained friends ever since.
As a former student of St Ita's Dutton Park herself, Sr Janice was very grateful to represent the Ursluines at this special event.
Pictured below from left Sr Janice Howard, Bill Hayden and Sr Angela Mary Doyle rsm. Bill was also strongly influenced by Sr Angela Mary at Brisbane's Mater Hospital. Bill recalled "she saw to it that the poor received the best medical attention at low cost, and pressed for universal health insurance."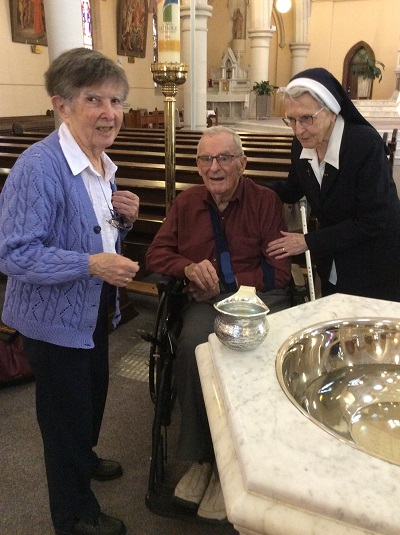 ---