Cambodia - Mother of Peace Primary School
New Opportunities
The Australian Ursulines are working together with the Catholic Prefecture of Battambang to build a new school - Mother of Peace Primary School in the village of Chrab Viel, Battambang, Cambodia.
Currently there are three Ursuline sisters working within the school and local community to offer the children of Chrab Viel better opportunities for their future. We have included a link to a brochure about this project detailing the dream, the plan and the need for assistance to make this new educational venture a reality. We are inviting donations from indivduals, community groups and school groups to help us with this project. Cambodia Brochure 2019
Please feel free to distribute this to any groups which you are part of, or aware of, which might be interested in supporting this project through fund-raising.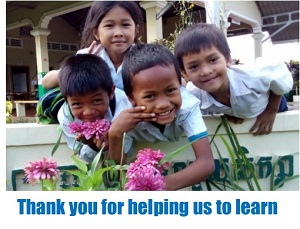 ---