Social Justice Sunday - 29th Septemer 2019
"MAKING IT REAL. Genuine Human Encounter in our Digital World."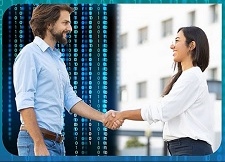 Each year the last weekend in September is set aside for the distribution of the Australian Catholic Bishop's Conference Social Justice Statement. This year the Social Justice Statement is titled "MAKING IT REAL. Genuine Human Encounter in our Digital World." Why in the midst of the Season of Creation would we have the release of such a Statement? It is no error that this occurs. Pope Francis in his Encyclical 'Laudato Si' dedicates an entire chapter to technology and the interconnectedness between human beings and the common good in the world.
Pope Francis states "We are the beneficiaries of two centuries of enormous waves of change: steam engines, railways, the telegraph, electricity, automobiles, aeroplanes, chemical industries, modern medicine, information technology and, more recently, the digital revolution, robotics, biotechnologies and nanotechnologies". Laudato Si #102
Such developments raise major questions for us as a society. Never before "has humanity had such power over itself". Laudato Si #104 At times there can be an unconscious tendency for such developments to shape our lives rather than direct our lives. Does the technological world control us as individuals rather than enhance our interconnectedness with our communities or does it assist in the fragmentation of that connectedness? Because of the power technology has in our modern world there is a tendency that we allow it to hinder freedom to our creativity and communication.
As mentioned throughout Laudato Si rather than be consumed by a segmented approach to life we are urged to work towards and take action regarding an integrated approach to living. We are encouraged to hold sacred to all our endeavours - the dignity of the individual, the community and our natural environment.
"An authentic humanity, calling for a new synthesis, seems to dwell in the midst of our technological culture, almost unnoticed, like mist seeping gently beneath a closed door". Laudato Si #112
"MAKING IT REAL. Genuine Human Encounter in our Digital World" endorses these sentiments when it states "…digital exclusion is primarily a moral and social problem. It requires us to ask how we value the poor and marginalised and whether we want a community built for the common good in which we recognise and love each other as neighbours".
An electronic version of the Bishop's Statement is available on the Australian Catholic Bishops Conference website www.catholic.org.au and the Office for Social Justice www.socialjustice.catholic.org.au