Advent 2019: Hope Peace Joy Love
Advent is the first season of the Church's Liturgical Year. Like any new year it lies untouched before us. Any new year offers us infinite possibilities to reflect on how we may embrace changes we may want to make in our lives. There is a freshness and energy about new beginnings which offer us hope and encouragement to take on new ventures to change our focus on what is really important in our lives.
Advent is the Season of hope, it is a season of waiting in joyful hope. A season which offers opportunities to continue to be faithful in the midst of our busy lives. A season which enables us to look afresh at the realities of life and the unknown challenges for us as individuals, families and communities. A season in which we can rely on God's graciousness that we are loved, cherished and respected. A season which is rich in imagery, challenge and opportunity of growth for us.
"During Advent, the Sunday Readings focus on the spiritual yearnings of people throughout history fulfilled with the coming of Jesus. The people's yearnings range from personal happiness to worry about a planet in ecological danger, our common home. Advent prayer reminds us of Gospel answers to our yearnings. It lights our way and comforts us with hope in our fears. The whole human family carries a spiritual impulse as it searches for a vision for the future. Advent challenges us to be awake to our life choices. It grows hope." www.columban.org.au

What choices will we make that will push us beyond our comfort zone this new year?
What do I most deeply yearn for this new year?
What is our genuine hope for this new year?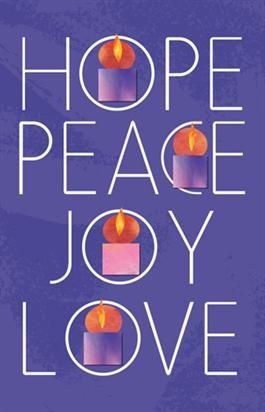 ---