The Companions of St Angela
Companions of Angela Merici- Sydney
The companions are a group of women and men who meet in friendship to support each other in their living the spirituality of Angela in their daily lives. The group meets monthly to pray together, explore Gospel values and their relevance to our 21st century world. Following the vision of Angela, the group also has a social justice focus. Each year funds are raised to support a local or international project to assist those experiencing social or educational disadvantage.
Companions of Angela Merici - Brisbane
From Elizabeth Kerr (Companion)
The Companions of St Angela (Brisbane) meet regularly each month for friendship and formation. We are a core group of nine members, guided and supported by Ursuline Sisters Anne Dawson and Janice Howard. Our meetings are open to other women who visit the group on a "Come and See" basis, and visitors come at the invitation of members. Spouses and other Ursulines join us for a Christmas lunch to conclude each year.
Our two-hour meetings consist of prayer, shared reflection, discussion on a prescribed book relevant to our formation, exchange of news and activities in members' lives, followed by afternoon tea. Last year we completed our study of "Angela's Alphabet" by Sr Ignatius Stone OSU and this year we have embarked on reading, "Ask the Beasts" by Elizabeth A. Johnston.
It is important for us to stay connected with the women who embody Ursuline spirituality for us. Our activities in 2014 and 2015 have been related to supporting the areas of ministry in which individual members are involved. Thus we support Judith McMonagle's work for the training of Ethiopian midwives and her involvement in fundraising for much needed education resources in an impoverished area of Ethiopia; and Roxanne Zolin's entrepreneurial training projects for women in the Congo and Mozambique. In June 2014, we participated in a quilting weekend at Boonah, the resulting quilt was presented to an Ethiopian midwifery graduate. More recently we attended an awareness and fundraising event for refugees from Sudan organized in the parish where some of our members are actively involved.
Spiritual formation is also important to us and to this end, Sr Anne Dawson invited Sr Kath Dwyer to present a retreat day in August 2014. Sr Kath gave us a wonderful day on the poetry of Les Murray and Gerard Manly Hopkins. We are planning a similar day with Sr Kath in September 2015. Members attend the Women's Night of Spirituality run by Toowong Parish every August at Stuartholme School. This year in March Sr Anne organized a retreat day for us with Sr Veronica Littleton. We all journeyed to Toowoomba and in the peaceful surrounds of Cabarlah, Sr Veronica led us in reflection towards a broadening of our faith horizons. These days give us a strong sense of solidarity in espousing the charism of St Angela Merici. We all renewed our commitment on this day with the following formula which we pray at each meeting to remind us of our source of inspiration –
"It is my desire to embrace the charism and spirit of St Angela Merici, the foundress of the Ursuline Sisters, so as to deepen my relationship with Jesus Christ, and to enter into companionship with all those who desire to live out the spirit of St Angela."
For further information on the groups in Sydney or Brisbane please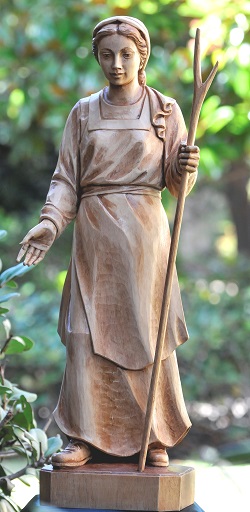 St Angela Merici, statue designed and made for St Ursula's College Kingsgrove, February 2012 by E. Piccolruaz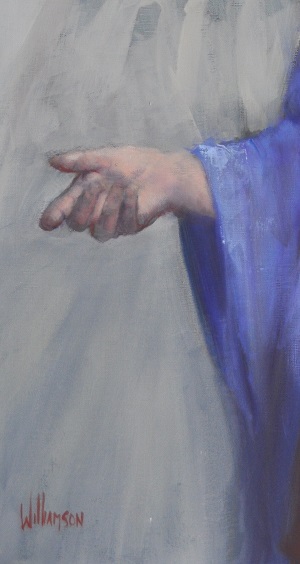 Angela Merici, artist Jan Williamson 2012, detail