Justice Peace and Integrity of Creation
Justice, Peace, and the Integrity of Creation (JPIC) - From the Roman Union JPIC Commission
'Today Ursulines continue to live the tradition begun by Angela Merici, her spirituality, her union with Jesus her unique treasure, her peacemaking, her task of reconciliation, in spreading the Good News, in many different countries of the world, in diverse situations and circumstances, with different people of all ages.
Our mission is always to be seen in the light of our basic identity, and who we are can only be understood in reference to our relationship to Jesus.
More specifically, we are committed to a mission of evangelisation, to care for families, for young people, for people at personal and social risk, in defence of life, and of human dignity. All of our educational enterprises are focused toward this end. We are also committed to working toward PEACE, JUSTICE, AND INTEGRITY OF CREATION with courage in the face of the challenges we meet in the globalised world.'

From 2006-2013 the international focus of JPIC was on anti-trafficking and water. 'Project Africa' was established to provide water to people in African countries where there are Roman Union Ursulines - Senegal, Cameroon and Botswana. As well as supporting these initiatives Australian Ursulines also provided assistance towards providing water wells in villages in Southern Sudan.

At the 2013 Chapter of the Ursulines of the Roman Union the commitment to working for issues of JPIC was reaffirmed.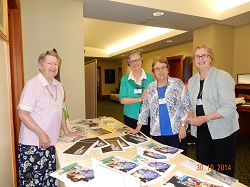 Setting up resources for JPIC day at Asia Pacific Conference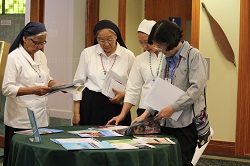 The focus areas for the Institute for the period 2013-2019 were recommended to include:
expanding our work against trafficking of humans,
an emphasis on migrants, refugees, and asylum seekers
giving attention to the environment.
Stronger links are being made with our regional Ursulines in Taiwan, Thailand and Indonesia so we can support each other with JPIC initiatives. Australian Ursulines are involved as individuals with a number of organisations working towards a more just society and care of our environment.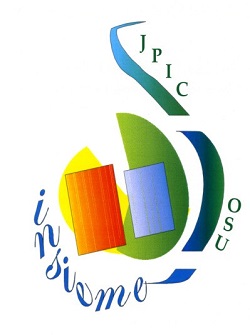 St Angela Merici: Primitive Rule 10
"Keep the flame of love burning in our hearts"