Sr Prapatsorn's Reflection on Australia
Sr Prapatsorn writes
Unity in Diversity at Sunshine Coast community.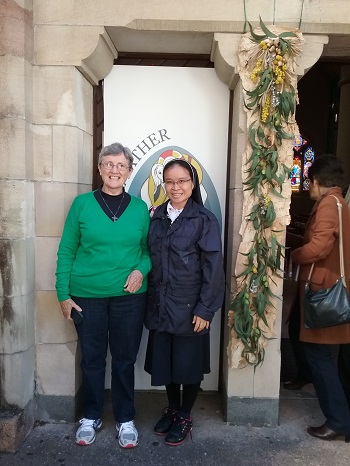 Life is a pilgrimage with God. Since I came to Brisbane, Australia to do my English Course at Griffith University for 10 weeks I have been impressed and I have had amazing experiences with the people here especially my Ursuline sisters. They have been welcoming, friendly, and offered warm hospitality. I have stayed with Sr Sue Flood from the Sunshine Coast Community. It's a beautiful community. We live differently but we share the same Spirit of St. Angela Merici. I have learnt many things about culture, food, languages, and community life from all the sisters.
Here, Community life is different from Thailand. In Thailand we have many sisters living together in the one house, but in the Sunshine coast community the sisters live alone or two together. The sisters communicate well among each other. They have community meetings once a month. It's time to share their life, experiences, mission, prayer, and have dinner together. Every Saturday they have dinner together. My experience has been that the sisters are supportive, trusting, understanding, and accepting. I see that they love, listen to and care for one another. They know each other well and focus on building community together. When there is a special occasion in community, such as welcome home, leaving work, birthday, farewell, all the sisters have prayer together, prepare the place, cook, and celebrate together.
The programme that the sisters prepared for me and the other visiting sisters has been very helpful. It has allowed us to meet most of the sisters from around Brisbane and to understand their missions. With them we were able have an experience of the variety of sights and the beauty of Brisbane. Everything was so well organized and flowed so smoothly.
Being in Sunshine Coast community for the past 11 weeks challenges me to see things differently and thus to change my attitude and behaviour. I feel at home and I don't feel a stranger. Here, people and sisters are friendly and talk to me like a long lost friend. "We are one. But we are many. I am, You are, We are Australian."
I would like to thank the Ursuline sisters and Sunshine Coast community for their generous heart and for their warm welcome. A big thanks to Sr. Sue Flood who took care of and provided for me. All of you are so beautiful. May the Holy Spirit be with the sisters and fill them with wisdom, love, and strength. With the Spirit of St. Angela Merici, we are companions on the pilgrimage.
Prapatsorn Srivorakun. OSU.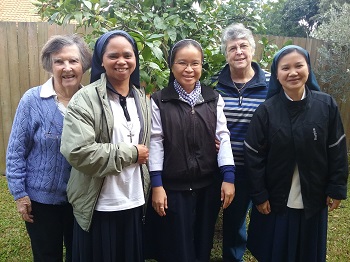 Images: top right Sr Mel Williams with Sr Prapatsorn
bottom from left Sr Janice Howard, Sr Eli, Sr Prapatsorn, Sr Sue Flood & Sr Ika
---