Community
"Be bound to one another by the bond of love, esteeming each other, helping each other, bearing with each other in Jesus Christ; if you really try to live like this, there is no doubt that the Lord our God will be in your midst."
St Angela Merici – Last Counsel

As Ursulines, we desire to be true to the inspiration of these words. For Angela, the essence of a call to join the Company of St Ursula in 1535 was the unique relationship each person has with her Lord Jesus. And so it is today. This relationship informs the way we live community and everything we do.
Propelled by Angela's vision, we live our community life in different ways, but always with the sense of being bound to one another in love as disciples of Jesus.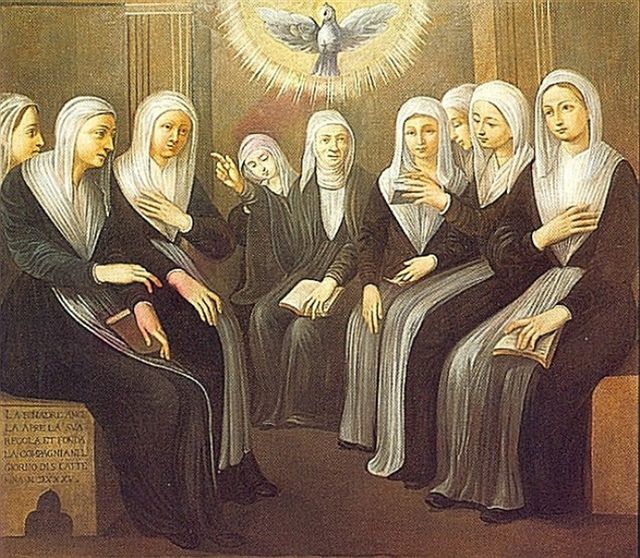 St Angela and her First Companions - Artist unknown
Sanctuary of St Angela Brescia, Italy.
We are drawn to the words of Pope Francis:
Quoting Pope Benedict XVI (Verbum Domini, 95) 'The missionary outreach is a clear sign of the maturity of an ecclesial community',
he goes on to say:
"A community is 'mature' when it professes faith, celebrates it with joy during the liturgy, lives charity, proclaims the Word of God endlessly, leaves one's own to take it to the 'suburbs' especially to those who have not had the opportunity as yet to know Christ."
(Message for World Mission Sunday 2013)
Community is central to our lives as Ursulines as we seek to bring the Good News to those in need. We live in a range of places in Queensland, Northern Territory, New South Wales, Australian Capital Territory, Victoria and the Philippines. Our homes are generally suburban dwellings. Sisters now live in small households, in groups of two or three, while some sisters live alone and others in aged-care residences.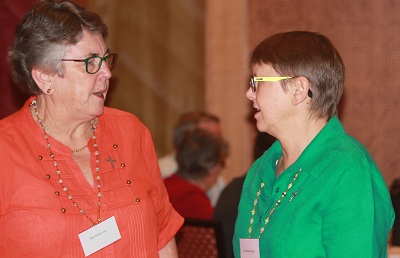 Sr Sue Flood and Sr Kari Hatherell
Sr Mary O'Neill, Sr Joan Brennan and Sr Gabriel Williams