Cambodia
Roads to Learning - Cambodia
An International Community of Ursuline Sisters has been working in Cambodia for the past six years. One of their projects during the last year has been 'Roads to Learning – Cambodia' and numbers of people from different parts of the world have contributed to this project in a variety of ways during this short period of time.
This article is an expression of gratitude from the sisters to all those who contributed to the building and completion of 8 klms of road in a rural area of Cambodia.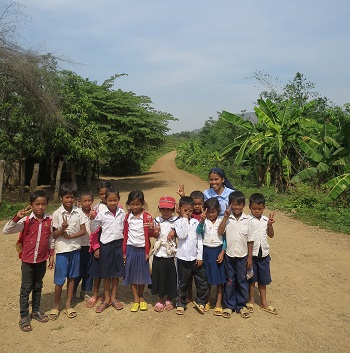 One village in a remote region of Cambodia, about 50 kms from the city of Battambang, now has much better access to many services. The children are able to attend school more easily, especially in the rainy season. Other members of their families are more able to access medical services and take their goods to market.
As you can see, the children, gathered here with Sr Entin, are very happy with the road. (see image left) The men of the village are very proud of the new road, and have committed themselves to be responsible for its ongoing maintenance.
Once the two roads around the first village were completed we were approached by the people of a second, more isolated village. The road from this village to the nearest school was hardly more than a walking track, very unsafe in many places and completely inaccessible in the wet season.
These children of the village spent an hour a day travelling to another school. They rowed their small boat across the river, then walked to where their bicycle was stored, and rode for 30 minutes to the school. Since their classes were in the afternoon, they left home at about 12 noon, travelling in the heat of the day.
Imagine how ready for learning they were when they arrived at school! After class they repeated the trip home, arriving as dusk was falling or even in the dark. In the wet season the trip was very often impossible, so their schooling was interrupted.
A few days after the new road was completed, this brother and sister (pictured below) enrolled in the nearer school, now only 4 kms from their home, a journey they can make by bicycle in less than half an hour, wet or dry season.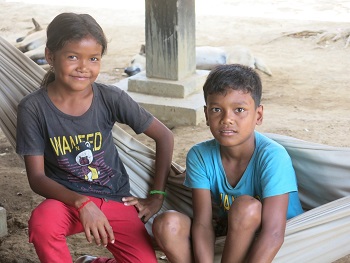 The United Nations reminds us that access to education is a basic right of every child, and that wealthier nations have a responsibility to assist poorer countries to provide it. You have assisted in the provision of this right to some very grateful children, and their families in rural Cambodia.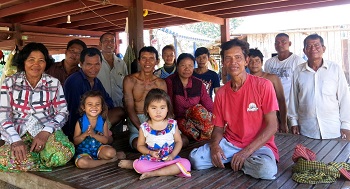 Thank you from the Ursuline Sisters in Cambodia
---