Latest News
Plenary Council 2020
"Listen to what the spirit is saying..."
For some thought-provoking reading you may like to explore the Plenary Council 2020 updates on their web-site – www.plenarycouncil.catholic.org.au
Snapshot Reports are being released for each of the six Themes. At the end of July more comprehensive reports for all the themes will be available.
There is much work to be done in this next phase of the process, much prayerful reflection and discussion needed. May we move forward to a more positive and hopeful future for our Church. May we be open to listen to what the spirit is saying in our ordinary lived experiences of life and share it with each other.
---
General Chapter 2019
8th September - 11th October
The Ursuline Sisters of the Roman Union are preparing for their General Chapter to be held in Rome from 8th September until 11th October. The symbol for the Chapter "A GLOBAL COMMUNITY moving into New Life" gives a view of roots deeply embedded in countries giving forth life through the cross and fruitful tree. Surrounding the globe are significant words taken from the writings of St Angela which continue to offer hope and optimism for now and the future:- "Act, love, believe, hope, cry out to him with all your heart."
Provinces within the Roman Union are located in Africa, Asia Pacific, Europe, Latin America, Caribbean and the United States of America. Within each of these Provinces there are several communities.
In preparation for the General Chapter all delegates have been required to visit a Province within the Roman Union for a short immersion experience. Such experiences assist in expanding religious, cultural and political understanding - opening up facets of the history of different countries, how religious life is lived, the variety of ministries in which sisters are involved, the life of the Church, and of course the wisdom, struggles and life of the local inhabitants.
Our Australian delegates to the Chapter, Sr Sue Flood and Sr Lee Veriga visited France and The Caribbean respectively. Sr Marija Merserko from Slovenia visited Australia and spent time in Sydney, Brisbane, the Sunshine Coast and Alice Springs.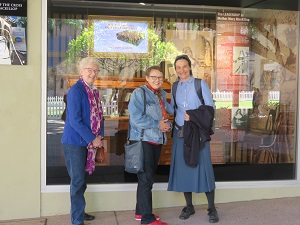 ---