Latest News
Meeting of Concerned Catholics Canberra Goulburn Diocese
On Thursday 31st August, the Concerned Catholics of Canberra and Goulburn Archdiocese met for their second forum. Sr. Ruth Durick osu was asked to speak on the way forward from the royal Commission. Fr Peter Day, a priest of the Canberra Goulburn Archdiocese, and Mr. John Falzon, Chief executive Officer of the St. Vincent de Paul national Council also spoke at the event.
Included here are the texts of the talks given by Ruth and Peter.
OUR RESPONSE TO THE ROYAL COMMISSION –
WHERE TO FROM HERE? TO WHAT AND WHO ARE WE RESPONDING?
The Royal Commission will complete its task in December this year with its final report to be handed to the Governor General on 15th December. Our response will not just be to the Royal Commission as such but
1. to the church,
2. to the world,
3. to those who think not much will change, who are waiting to get back to normal,
4. especially to those whose lives have been broken by abuse within our church
5. and to all those who have been affected along the way – the dispirited, the disenchanted, the angry - but also to those of us who still have hope that things can be different.......
Ruth Durick
Canberra, 31st August 2017
Entire Talk given by Sr Ruth Durick osu
---
We spend too much time in airport lounges
and not enough time in 'soup kitchens'.
I was not baptised in the name of this pope or that pope; this group of bishops, or that group of bishops.
Nor was I baptised in the name of the conservatives, or the progressives; this faction, or that faction.
I was baptised in the Name of the Father and of the Son and of the Holy Spirit.
I was baptised and ordained to serve, but that's not as romantic as it sounds:
…He poured water into a basin and began to wash the disciples' feet, drying them with the towel he was wearing… 'If I, then, the Lord and Master, have washed your feet, you should wash each other's feet. I have given you an example so that you may copy what I have done to you'. (John 13: 4-5, 13-15)
By Peter Day
Full Talk given by Fr Peter Day
---
St Ursula's College Kingsgrove Students Visit O'Connor Catholic College Armidale
Throughout 2017, O'Connor Catholic College Armidale has been seeking out a greater recognition of the school's history and culture and more specifically the contribution of the Ursulines to its spirit and ethos. An initial step in this process was the invitation extended to Ursuline Sisters Mary Talty and Kath Dwyer to participate in two significant school functions. The first of these was the inspiring dedication of a memorial plaque, on Anzac Day, to Nurse Ellie McGlade, former pupil of St Ursula's Armidale and one of the victims of the Bankha Island massacre in 1942. The second was to attend the traditional celebrations of Founders Day on 30th June, when the school community recognizes John Baptist de la Salle and Angela Merici.
Sisters Mary and Kath approached Mrs Mary Leask, Principal of St Ursula's College Kingsgrove, with an invitation for some Kingsgrove pupils and staff to join in the celebrations. Below is an account on behalf of the students, by Isabella Rodgers, of their first experience and encounter, as a sister school, with O'Connor Catholic College. As Isabella says, may it be the beginning of many more!!
On Thursday 29 June, sixteen Year 11 students, accompanied by Mrs Leask, Mrs Brooks and Sr Fran Milledge, embarked on an eight hour train trip to Armidale where we were billeted with various host families from O'Connor Catholic College. The reason for this trip was to reignite the connection between the two colleges.
O'Connor was almagated from two Catholic high schools in 1975 - St Ursula's College and De La Salle College. St Ursula's College in Armidale was the first Ursuline school in Australia and all of the sisters who have served in Kingsgrove over the past sixty years would have entered the novitiate there, so it is an incredibly important place in our College history.
Previously the two St Ursula's schools had been closely linked with students often travelling to and from visiting each other and participating in special events such as feast days and sports carnivals.
This year we were lucky enough to be able to participate in the Founder's Day activities which included a whole school assembly and mass, a talent show and an intensely competitive game of 'Capture the Flag'. In spending time with our billet families and other students from the College during dinner at the local Chinese restaurant and a bonfire, we were able to witness the immense school spirit and close relationships they have with each other.
We would like to extend our immense gratitude to our billet families who made us feel right at home. We also thank Mrs Brooks and Sr Fran who accompanied us and Mrs Leask , Principal of St Ursula's College, Kingsgrove and Mrs Menz, Principal of O'Connor Catholic College for organising the trip and allowing us to form new and exciting friendships.
We hope the bond between O'Connor and St Ursula's will continue to strengthen as a result of our visit!
Isabella Rodgers - Year 11 - St Ursula's College Kingsgrove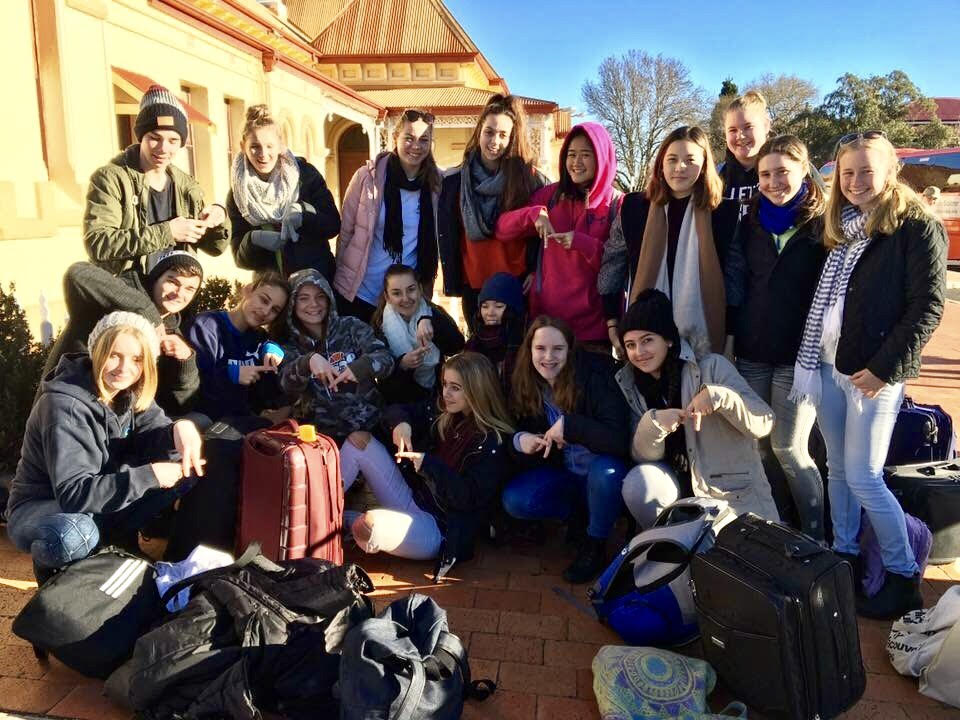 ---