Items of Interest
Pope Francis … Private Audience … 3 October 2019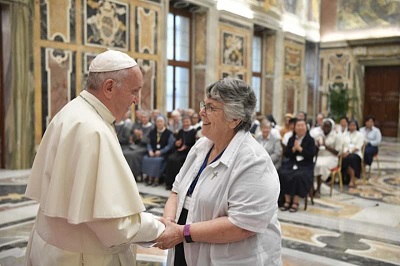 Following her recent appointment of Prioress General, Sr Sue Flood osu addressed Pope Francis at a Private Audience on the 3rd October 2019.
Holy Father, Good afternoon.
We, Ursuline Sisters of the Roman Union, are very happy to have this opportunity to meet with you today, and we are grateful that you have been able to take the time to spend with us.
We come from 24 provinces and groups, spread across 39 countries, and we bring greetings to you from our sisters across the world – more than 1500 women.
As you know, we are in the middle of our General Chapter. We have just completed the process of discernment and election of the new General Council who will provide direction for us through the next eight years.
As Ursuline sisters we deeply appreciate the leadership that you offer, and, hopefully, we can learn from you as we move into this new stage of our journey as daughters of Angela Merici. We would like to reflect your values of deep respect for others, of the importance of personal relationship, of courage, of collaboration. Like you, we also want to share the message of Jesus with clarity and conviction.
Holy Father, we acknowledge the contribution that you are making for our Church and within our world today. In particular we value
- Your commitment to the poor and the marginalised in our midst
- Your desire to stand with migrants and refugees, with those who seek a safe and secure home
- The strength with which you speak for the created world, the integrity of which is under such threat
- Your efforts to build bridges between peoples of many faiths through Inter-faith dialogue

We recognise that you do not only speak about these matters. You also act whenever you can. You are not afraid to be amongst the people, to take upon yourself 'the smell of the sheep' as you encouraged us in "Evangelii Gaudium". Thank you for that.
We assure you that we support your efforts to build a more inclusive church, a church that is open and responsive, a church that is truly hopeful and joyful.
At this moment in our General Chapter we are discerning God's particular calls to us as committed religious women in today's world. We are ready to hear your message to us today, which, we know, will offer us words of wisdom, encouragement and challenge, a message we will share with all our sisters.
Thank you.
M. S Flood osu
Prioress General
Ursulines of the Roman Union
You may also follow the link to Pope Francis' Address to the Ursulines of the Roman Union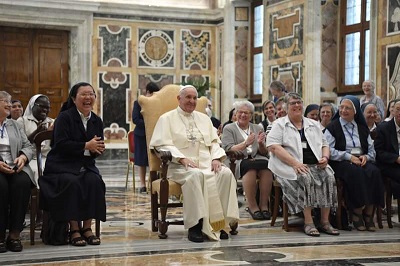 ---
Appointment Prioress General - Sr Sue Flood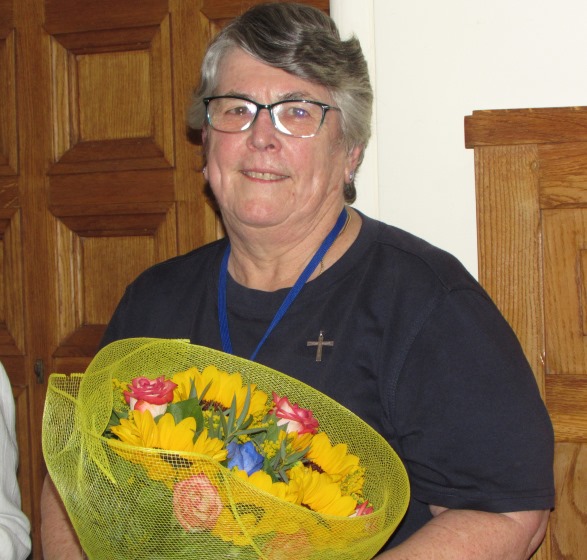 The Australian Ursulines join in prayer and gratitude as the Australian Provincial, Sr Sue Flood is appointed Prioress General of the Ursulines of the Roman Union.
Sr Sue Flood
Rome, 28th September 2019
---