Australian Archives
Definition: "Archives are material which is generated by the official activities of an organisation."
It does not include articles and artefacts which are historical; these belong to the museum.
Our archive space holds;
all official correspondence to and from the organisation and others e.g. from Rome, Bishops, priests and other official groups
records of activities by the organisation, including diary records of different communities and minutes of meetings, province conferences, celebrations, community reports, material related to school and buildings
copies of academic theses written by our sisters
photographic records of people and events
records of deceased members of our communities
history of the Order including the story of the Foundation by St Angela Merici, the spread of the Ursulines in France, Germany and other European and non-European countries, the Annals of our German foremothers and the foundation in Armidale, and histories of our communities
We are grateful to the two schools in Armidale which are housing many of our museum pieces related to St Ursula's College and St Mary's. The Heritage Centre of the University of New England also accepted on permanent loan some of the books and artefacts which they felt were valuable to reflect the significance of the place of St Ursula's in the history of Armidale.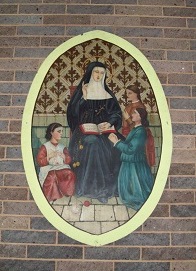 St Angela Merici, painting by M. Cordula Rowland
If you are interested in sourcing information from or contributing to the Province Archives, please complete the form below.