St. Angela Merici: Introduction to Counsels
"How earnestly then, you must beg God to enlighten you and direct and teach you what you have to do for love of Him"
Mission
"Every Christian is a missionary to the extent that she or he has encountered the love of God in Jesus Christ."
Evangelii Gaudium: The Joy of the Gospel #120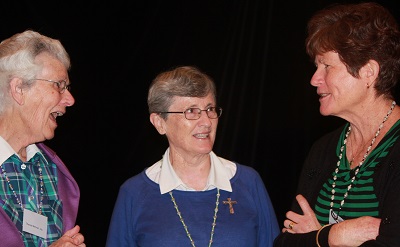 We are women whose mission is expressed in a variety of ways, leading us to people, places and events which open us to new possibilities.
We are enlivened by our involvement with those who cross our paths each day as they challenge and encourage us.
We learn from them as they share faith, the joys and struggles of daily life, their injustices, anxieties and hopes.
Grounded in Gospel values and inspired by St. Angela, we are working with young families, with women, in health, in parishes, in schools, in Pastoral Ministries, in spiritual direction, in care for aged sisters in our community, in advocating for the poor and marginalised.
Please read about our involvement below.
---
Sr Zita Teixeira
I work at two hospitals in Brisbane and at Redland, as part of the Pastoral Care Team.
A question is frequently asked of people of how much external and internal time they think they spend in a day. The answer is often 90% external and 10% internal. When someone comes into a hospital, the reverse tends to happen to the person. Patients find that they have time to: think, reflect, remember…
It is this often challenging and confronting time which provides an opportunity for Pastoral Care Workers to offer patients listening and support. We do so in a variety of ways.
We visit the patient always aware it is the patient who sets the agenda; they are the expert of their own experiences and lives.
We provide a friendly visit.
We support patients/families in times of grief and loss.
We pray with them when they request prayer.
We offer communion to Catholics on request.
We arrange for the reception of Sacraments again at the request of patients/families.
We contact both Ecumenical and Inter-faith group representatives on behalf of the patient.
We offer prayers of blessings for babies and mothers.
We also work alongside all staff.
Ritual can be powerful in allowing people to connect with their emotions and experiences on deep and profound levels.
According to Brenna Niemanis who works at a juvenile justice residential facility for girls between ages of 14-17;
"There is such power in simply being present, simply being open to listening to someone's story without looking for the perfect response or advice to give, just being".
Global Sisters Report/globalsistersreport.org Mar.16.2016
I have had patients say to me, "you are the first person I have ever shared this with". It is an honour and a privilege to journey with people at different times in their life journey.
---
Sr Joan Brennan
"I beg you to take care of all your daughters, having each and every one engraved on your mind and heart"
St Angela Merici, 2nd Legacy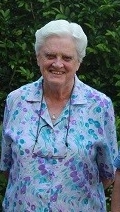 For many years now I have worked in the Finance Office at St Ursula's College Kingsgrove receipting payment of school fees. This work involves regularly contacting parents regarding their payments. Here I see my ministry as one of extending a listening ear and a caring, compassionate concern, knowing their story so as to achieve a mutually agreeable plan within their particular circumstances. It is a privilege to have their trust and be able to bring a pastoral concern to my work. Occasionally this is challenging when parents' priorities appear not to fully align with Gospel values. However, the majority of our parents are committed to supporting the College community and we are inspired by the efforts they make. I enjoy enquiring about their alumnae daughters, being interested in what they are doing with their lives. I also enjoy supporting the Year 7 students, and welcome the opportunity to enquire how they are settling into the College.
There is a homely spirit of welcome in our school. I contribute to this by purchasing and arranging fresh flowers each week. The staff see these as a great uplift to their spirit as they pass them on the way to classes. The students also comment on the flowers. This too is part of my ministry in caring for those with whom I work. It also provides an occasion to engage with the students in conversation over the flowers. I work with a great team of about 20 support staff who are there to support and appreciate each other.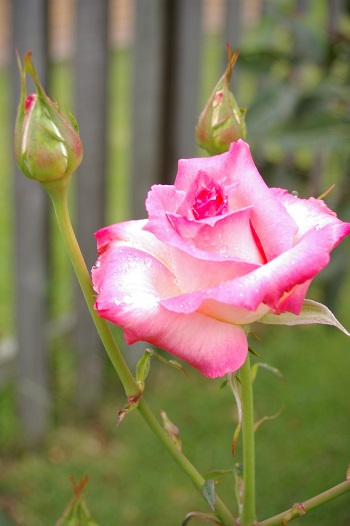 ---
Sr Mary Driscoll
Sr Mary Driscoll is an Ursuline Sister originally from Ashbury in Sydney and attended school at St Ursula's Ashbury. Currently living in Brisbane she is now involved in a variety of ministries reaching out to people in our community.
Sr Mary shares with us significant statements regarding her ministry. Please click on the click below to view an insight into Sr Mary's ministries.
My Ministry by Sr Mary Driscoll
---
Sr Mary O'Neill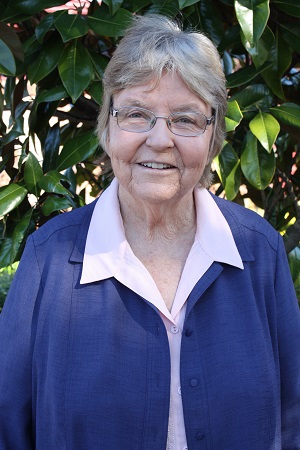 My ministry as Pastoral Care Co-ordinator at Our Lady of Fatima Parish, Kingsgrove is ever changing and challenging. The overall co-ordination involves numerous groups within the Parish - Young Vinnies, Caring and Support Group, Catholic Women's League, St Vincent de Paul and the Parish Pastoral Council - as well as local service providers and an outreach to the wider community through these groups.
Visitation is a significant part of my ministry. I visit the sick, elderly and dying in their own homes and in hospitals and those who are in Nursing Homes and do not have significant family support. I organize funerals and am involved in supporting bereaved families.
Being involved in visitation takes on a broader aspect. As I have been in the Parish for so long I know generations of the families. This provides a precious dimension to my work - it takes me into the daily struggles, joys and hopes of these families.
Another aspect of my ministry is to organize Prayer Groups and Reflections for small groups. In these groups we aim through our prayer, reflections and practical support to spread the cycles of care and compassion to all families, to the earth as our Mother and to all its creatures.
As John O'Donoghue states in Divine Beauty - The Invisible Embrace
The voice of compassion is not absorbed with itself.
It is a voice imbued with understanding and healing.
This voice dwells somewhere in every human heart.
---
Sr Marj Carroll
Never in my wildest dreams did I envisage myself, age 79, to be mingling on the playground with 1200 exuberant, laughing, shouting, screaming adolescents, male and female but here I am at Good Samaritan College, Hinchinbrook a suburb of South Western Sydney. These young people come from 49 different nationalities and on the whole play and study together very harmoniously. I see the little talks and counselling I offer in terms of preventative measures.
If they can leave Good Samaritan with their heads held high, happy with their achievements at their ability levels, with a sense of self-assurance, confidence and pride and living Gospel values then I feel the school has accomplished a great deal in keeping these "kids off the streets". Having been here now for ten years I know we have.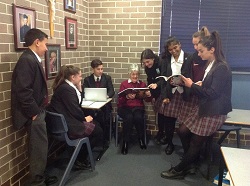 Sr Marj with students from Good Samaritan College, Hinchinbrook
---
Sr Mary Wicks
When I entered the Ursulines I was a trained nurse. I had chosen nursing as a job earlier in life for reasons that had nothing to do with healing and caring or any aptitude. Nursing allowed me to very slowly develop social and caring skills and finally a recognition of the intimacy afforded by having such a professional role in a person's life. This became the real gift and the paradoxical secret of the caring professions – mutuality. Having the opportunity to nurse in remote indigenous communities helped me enflesh issues surrounding poverty and social justice. This particular experience has been a seminal gift in my life. It also helped me focus my decision on continuing studies to become a doctor.
Currently I work in Central Australia as a medical doctor. My area of interest and concern is indigenous health. I work both at Alice Springs Hospital and travel to remote indigenous communities providing medical specialist services. I enjoy working with Aboriginal people – their humour, values and resilience. Aboriginal people have taught me much of value both personally and medically over the years, and I value their relationships, which are enduring. I am especially interested in finding ways to communicate between our cultures in an effective and mutually enhancing way. I understand my ministry in medicine as very much an expression of both my Ursuline Life and Christian heritage. As Pope Francis insists, we must "let God's tenderness warm us" and I try to be part of that expression of tenderness.
"Aboriginal health is not heroic. It will not win votes, and is not necessarily about having the latest technology with bells and whistles. It is about compassion. It is about justice. It is about priorities. And, it is about not forgetting people. . ."
Lowitja O'Donoghue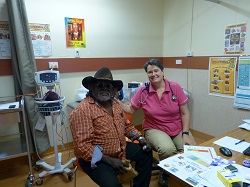 Sr Mary Wicks with Mr Hillary Wirri
---
Sr Edith Ontiveros
"Persevere faithfully and joyfully in the work you have begun!"
St Angela Merici - Last Legacy #22
I like to call my ministry a ministry of interiority. This ministry is one of presence at the Center for Ignatian Spirituality, Quezon City, Philippines. I am a retreat giver, spiritual guide, mentor, supervisor and resource person for the various programs at the Center. I assist with the formation of future retreat guides as well as the continuing formation of the guides. I experience the frontiers or ''going beyond borders" with a wide range of participants coming from the Asia Pacific region. I work with people from Cambodia, Indonesia, Singapore, Malaysia, Hong Kong, Japan, Thailand, Papua New Guinea, Samoa, Vietnam, Myanmar, Korea, China and beyond.
More recently I was invited to join the Mentors' Pool of Center Quest which is a new School of Spiritual Direction (SSD) based in Pasadena, California. Within the context of SSD, the mentor offers a personalised presence of continuous support and assessment to participants as they journey through the year-long SSD program.
Recently, after returning from Australia I flew to California for a weekend of training on Center Quest's mentoring. I became familiar with the on-line/residency program (Moodle) for participants. This program will commence next year so I have a few months to prepare and refine my skills.
I hear Angela encouraging me to listen to the Spirit speak through the circumstances, events, people, experiences; to be creative and responsive to new challenges with the "Joy of the Gospel!"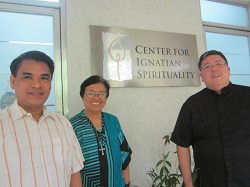 Centre for Ignatian Spirituality Team. Roberto Buencosejo, SJ and Victor Baltazar, SJ, with Sr Edith Ontiveros
---
Sr Anne Cougle
I am working as a volunteer teaching English at the Romero Centre in Brisbane. The Romero Centre is a work of Mercy Community Services (Brisbane Sisters of Mercy) and is particularly focused on supporting Refugees and Asylum Seekers. Those who come to the Centre are from many different countries and cultures and all share the same desire to live in peace and to contribute to the life of the community.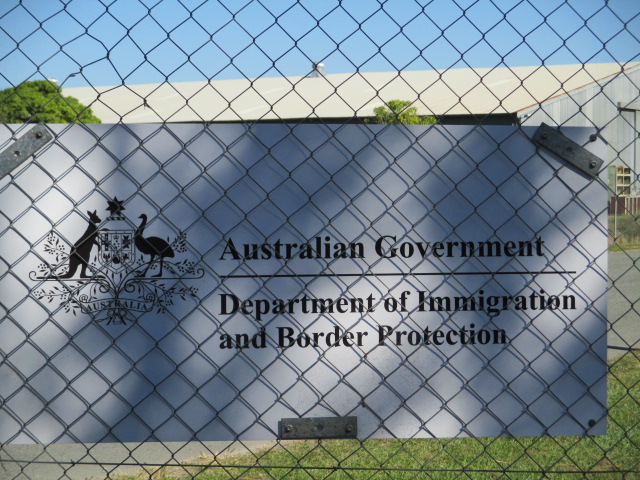 I also visit the Brisbane Immigration Transit Accommodation (BITA) where I spend time in conversation with some of the women who are there with their families waiting to hear the outcome of their applications to stay in Australia. This is an opportunity to reach out in a spirit of welcome, mutuality and companionship in a time of great uncertainty.
My other role is that of Pastoral Care Worker for the Ursulines in Queensland. This involves journeying with our sisters who are residents in Aged Care facilities as well as those at home who require pastoral support in ways that contribute to their dignity and quality of life.
---
Sr Judith Coleman
"You should go often...to visit your dear daughters and sisters; greet them, see how they are, comfort them, encourage them to remain constant in the way of life they have undertaken".
St Angela Merici - 5th Counsel

Mindful of this injunction of St Angela, we Australian Ursulines are especially attentive to those among us who are suffering from the diminishment of ageing or of illness.
We care for their needs in a spirit of loving companionship, aware of the mutuality we live as they accept our care with gratitude and love.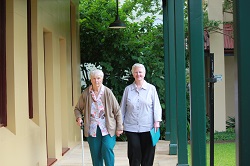 Sisters Amy Caldwell and Judith Coleman