St Ita's Centenary Celebrations
1919 -2019
The Ursulines arrived in Dutton Park on 3rd January 1919. Three weeks and three days later the school opened on 27th January. This is a significant day for the Ursulines as it is the feast day of St Angela Merici who founded the group in 1535.
Throughout this centenary year there have been a number of events marking this anniversary.
An open invitation was sent to past parents, students, friends and Ursulines to attend the Centenary Mass celebrated by Archbishop Mark Coleridge on 11th August. Sr Helen Dyson osu, and the 3829th student to be enrolled at St Ita's writes "The students led us in song throughout the Mass and it was lovely to hear such strong voices continuing the tradition of a church in which people have always sung. One of my memories of St. Ita's is that of Fr Barney O'Shea singing as he walked down the aisle with the expectation that everyone sings in the same way – which they did!"
The oldest past pupils to be present at the celebrations were Sr Janice Howard osu (known to many as Mother Finbar) and the honourable Bill Hayden AC. These two were joined by the youngest present student and the current school Principal Mr Greg Cran who cut the celebratory cake.
Following the celebration of Eucharist, year 6 students conducted tours of the school which included an historical display. This was fascinating as it gave a wonderful overview of the Ursulines who were Principles/Prioresses together with the Parish Priests during the 100 years.
Much hard work was done prior to the celebration to gather school photos, memorabilia, and the hand written enrolment information from the early days. There were great shrieks of laughter as people discovered their names, their photos and those of their friends.
'Serviam – I serve' is the motto of Ursuline Schools and a Serviam Wall has been established with people invited to have a tile inscribed with their family names. This wall will be blessed at a celebration of the closing of the Centenary Year.
From the beginnings on the 'hill' at Dutton Park, it was encouraging to see that life has continued and flourished to what we see today – new and exciting buildings for 21st Century education and students and staff happy to be nourishing the life of this faith community.
Saint Angela encouraged us to "Never cease to cultivate the vine that has been entrusted to you. After that leave the rest to God to work wonders at the time which God finds best". Angela's Writings Eighth Counsel
The celebration of 100 years since the Ursulines were founding mothers gave us great consolation and hope that her spirit continues to enliven and encourage those who pass through the doors of St. Ita's school Dutton Park.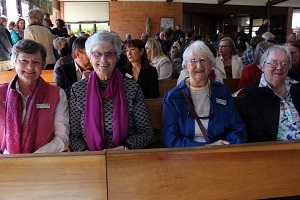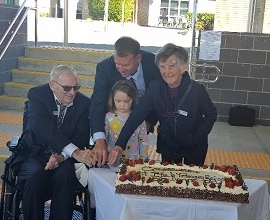 ---